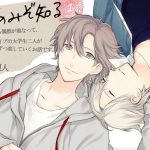 Synopsis
Arikawa Youichi's life at university is going just fine.
He isn't having any trouble with his classes, he has plenty of friends, and even a cute girlfriend named Kanami. Then the day comes where he meets Misaki. Misaki Shouta is a reserved, stand offish fellow but for some reason, Youichi can't seem to get him out of his mind. In fact, he can't seem to stay away. When he lands a job working in the lab with Misaki, it seems more than just the flowers are about to bloom.
But will they recognise their emotions for what they are, and have the courage to accept it?
How to watch Manga Drama CD: LINK
Become my Patreon to watch 100+ series: LINK
Or visit my Buymeacoffee to watch full cd: LINK
Season List