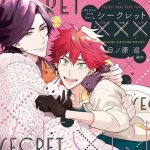 Synopsis
Growing up in an environment full of all kinds of animals, there's only one animal that Shouhei loves and that's rabbits. Because of his love for rabbits, he sometimes helps out in a rabbit specialist shop. And there, he meets Mito Itsuki, his unrequited love. However, he has a secret he has to keep no matter what. Would he be able to keep that secret in order to stay close to the one he loves…?! A cute and short love story by Hinohara Meguru.
Chapter 2-3 : Secret XXX
After going through many hardships, Mito and Shouhei finally became lovers. Just when their love is starting to bloom, Mito begins to act strange for some reason. Shouhei still doesn't know much about Mito so he can only sense Mito is hiding something from him. One day, Shouhei saw Mito with another guy in his car?! What could Mito be hiding? Can Shouhei keep his faith in Mito.
How to watch Manga Drama CD: LINK

Season List