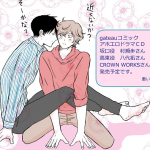 Synopsis
Sakaguchi is an ordinary and easily pressured man. Takato is a smart, hot guy who is even good at cooking, who has Sakaguchi's routine down and sticks by his side.
The two of them are roommates, and one day, they end up watching an adult video together – which kick-starts a physical relationship between them. Day by day, Takato's demands for sex escalate.
Now, they share everything from baths to the sweet kisses of a lover.
Until one day, Takato goes to a mixer – and seems to get himself a girlfriend. What on earth is he thinking?
平凡で意思の弱い坂口は、料理上手で気が効くイケメン高東に
予定を把握され、執着される毎日を送っていた。
ルームシェアをしている二人は一緒にAVを見たことをきっかけに、
身体の関係を持ち、高東のエッチな要求は日に日にエスカレートしていく。
今では一緒にお風呂に入り、恋人同士のような甘いキス。
しかしある日、高東は合コンに出かけて行き、どうやら最近彼女ができたみたいだ。
どういうつもり。
Listen to Audio BLCD Aho Ero アホエロ mp3 online: