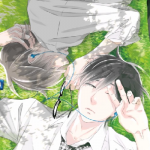 June 28, 2017

ブルースカイコンプレックス
Synopsis
Narasaki, who only wanted a place where he could sit and read a couple of books, was blackmailed by his teacher to supervise the delinquent Terashima while working as the school library's receptionist.
From the quiet days they spent together, they eventually became close… and will love bloom?
進級して3年生になった楢崎と寺島。口に出さずともお互いの気持ちがなんとなくわかるくらいには通じ合い、お付き合いは順調な二人。
しかし考えなければならないのは「進路」や「将来」の事。
卒業してからも寺島とずっと一緒にいたいと思う楢崎は、ある"提案"を寺島に持ち掛けるが、思い描いた通りにはいかなくて…。
子供と大人の狭間で、ままならなさに憂う「高校生」たち。
人肌恋しくなる待望のコミックス第3巻を音声化!
≪キャスト≫
佐藤拓也
江口拓也
新垣樽助
白井悠介
田丸篤志
Listen to Audio BLCD Blue Sky Complex Vol 2 ブルースカイコンプレックス 2 mp3 online: