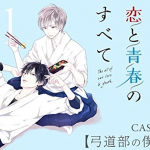 June 24, 2014

僕らの恋と青春のすべて case:01 弓道部の僕ら - All about our love and youth
Synopsis
The Vice-President of Archery Club, Chiharu Mukaitera, was in deep slump. Due to great pressure, Chiharu couldn't shoot arrows as he wanted.
Chiharu receives a guidance from a genius newbie, Nagaame Fushimi. Chiharu, who is good at cooking, satisfies and fills up Nagaame's stomach, and Nagaame persistently attacks Chiharu saying he wants to eat meals together. Chiharu promises him to do so since he thought taking care of one's health condition is important for archery, but Chiharu finds himself being drawn to Nagaame's archery posture…..
The popular drama CD 'My Love (Boku Koi)' series, finally coming out as a comic!
スランプに悩む向井寺千遥(三年・副部長)が面倒を見ることになったのは、期待のルーキー・長野のモンスターの異名を持つ伏見霖(一年・新入部員)。成り行きで渋々と世話係を引き受けた千遥だったが、弓を構える霖の姿を一目見たときからその凛とした美しい姿勢で矢を放つ姿が脳裏から離れなくなってしまう。
その一方で、料理上手の千遥に餌付けをされ、すっかり懐き離れようとしない霖。二人の関係はいつしか不器用な恋へと発展してゆく――。
Listen to Audio BLCD Bokura no Koi to Seishun no Subete Case:01 Kyuudoubu no Bokura 僕らの恋と青春のすべて case:01 弓道部の僕ら mp3 online: