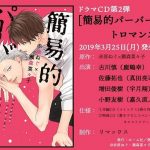 Synopsis
"Oh, maybe you are …"
"De M Yankee" Yuki Kashima and "face fetish", the two people who encounter was the worst. Sanda suffers an injury when trying to save a stricken deer in the street one day.
From then on, Kashima begins to ignore Sanada-…!? Two insensitive and clumsy people realize the "true feelings" that each other has ?!
Face fetish × de M Yankee unfolds, horny and radical love battle, long-awaited 2nd season!
「俺、もしかしたら、お前のこと―…」"ドMヤンキー"の鹿嶋幸と、鹿嶋の『顔』が世界一好きな"顔フェチ"の真田亮司。出会いこそ最悪だった二人も、今では(喧嘩しつつ)あらゆるプレイでセックス三昧の日々。しかし、ある日街中で喧嘩している鹿嶋を助けようとして、真田が怪我を負ってしまう。それからというもの、鹿嶋は真田を無視しはじめて――…!? 鈍感で不器用な二人は、互いが持つ『本当の気持ち』に気づけるのか!? 顔フェチ(不憫)イケメン×ドM(野獣)ヤンキーが繰り広げる、エッチで過激なラブバトル、待望の2ndシーズン!
Listen to Audio BLCD Kaniteki Pervert Romance 2 簡易的パーバートロマンス 2 mp3 online: