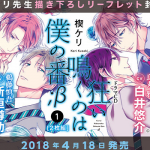 April 24, 2019

Denial of Problems is My Middle Name;β 2
Synopsis
Sasabe Sumito is an omega with a complicated past which made him hate betas. He has been newly hired under the beta, Utou.
Will Sumito's being an omega screw up his chances to climb the corporate ladder?
Or will he get over his trauma and accept his life as an omega?
摂理を壊した先にあるものとは――Ωを敬遠するβ×βを軽蔑するΩ――凄艶のオメガバースが再び。
大手広告会社の営業課長・鵜藤(うとう)はある日、接待でΩだけを集めたホストクラブを訪れる。Ωの差別的な扱いに内心嫌気がさす鵜藤は上手くかわし席を離れるが、一人のホストの青年が声をかける。甘えた声で擦り寄る彼だったが、鵜藤がβだと知ると見下した態度に豹変。印象最悪のまま別れた二人だったが数日後、思わぬ再会が。
新卒として鵜藤の部署に配属された雀部(ささべ)が、なんとホストの青年だったのだ。一流企業に入りながらも、なぜホストとして働くのか…。気にかかった矢先、雀部の体に異変が起きて…?
Listen to Audio BLCD Kurui Naku no wa Boku no Ban;β 2 狂い鳴くのは僕の番;β 2 mp3 online: