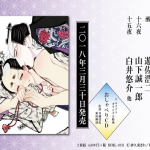 Synopsis
In the latter half of the Edo period…
In a narrow tenement in the humid heat of midsummer, two men exchange heated sighs as they have intercourse.
A former kagema, a male prostitute, Momoki, was picked up by Manji one rainy day.
The times that Manji spends treating Momoki not as a kagema, but gently, lovingly, holding him as a lover, are much like a dream.
To Momoki, those days are filled with happiness, no matter what may have happened in the past.
時は江戸時代・後期。真夏の蒸し暑くせまい長屋で、熱い吐息交じりにまぐわう男がふたり――。元・陰間(かげま)の百樹(ももき)は、ある雨の日に卍(まんじ)に出逢い拾われた。陰間の仕事としてではなく、やさしく愛おしく、恋人として抱かれる瞬間はまるで夢のようで、そんな日々に百樹は幸せでいっぱいなのだった。たとえ過去に、どんなことがあったとしても。
江戸漫画の革命児・紗久楽さわが描く、溺れるほど愛おしい江戸男子の艶ごとを2枚組でドラマCD化! 伊達男・卍×陰間あがり・百樹の、極上のあまエロスをお届けします。
Listen to Audio BLCD Drama Momo to Manji vol 1 百と卍 mp3 online: