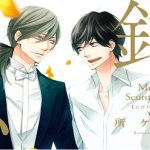 September 22, 2017

Nibiiro Musica - Violinist & Manager
Synopsis
"You were the only one I didn't want to find out about this desire…"
10 years have passed since Takuma lost touch with his good friend Yuki, who left for Italy to become a Cellist. Now working as a home aid, Takuma is shocked to find his next patient is none other than Yuki himself.
Yuki, who is now semi-blind after an accident left him injured and his eyes trapped behind bandages until his surgery.
Due to mixed feelings about their reunion, Takuma keeps his identity a secret as he tends to the injured Yuki. But how will he react when he learns that his friend was in love with someone when they were kids… and still holds a torch for that person even now?
A Cellist who has kept his feelings hidden in the recesses of his heart and his childhood friend…the music of their clumsy yet pure love begins to play…
チェリストになると誓ってイタリアへ留学した親友ユキとの連絡が途絶えて十年。
介護士として働く拓真は、瞳を傷付けられて両目に包帯を巻いたユキと偶然再会する。
自分である事を明かさないまま、ユキの介助をする拓真。
しかし、中学時代から密かにユキが自分に恋していたことを知ってしまい……。
十年来の片恋を隠したチェリスト×幼馴染の介護士。
――どこまでも不器用で、どこまでも一途な、恋の楽章。
Listen to Audio BLCD Nibiiro Musica 鈍色ムジカ mp3 online: