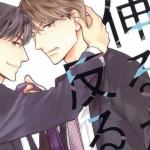 October 27, 2016

伸るか反るか,Win or Lose
Synopsis
Takamune Houjou and Minami have been good friends for twenty years.
After certain events happened, the two are now finally officially lovers. However, the biggest issue they have with their relationship is…that they don't know who will top who!!
So now its an all out match to see who "wins or loses"!!
20年来の親友から恋人となった四十路リーマンの北條と南海。
人生最高のパートナーはお互いだと認め合う二人だが、
どちらが抱く側になるかで両者一歩も譲らない戦いがはじまり……!?
BLCD Noru ka Soru ka 伸るか反るか online: