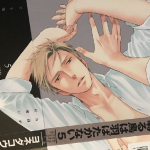 February 28, 2018

Saezuru Tori wa Habatakanai; Twittering Birds Never Fly;지저귀는 새는 날지 않는다;鸣鸟不飞;Певчая птица крыльями не машет
Synopsis
In the struggle, Yashiro of Shinseikai Wakayama faced off against each other in Hyakumei's room.
Yashiro, who took his eyes off the thought of hundreds of eyes. A hundred-eyed demon wants to protect Yashiro.
Although they are strongly aware of each other, they keep their feelings beyond the limit.
However, when a hundred demons were forced to tell Yashiro, the balance maintained until that time was broken. " I can do something important to myself, I need to do something cause I should not lose" – how Yashiro chose …..?
抗争の最中、真誠会若頭の矢代は百目鬼の部屋で向かい合っていた。 百目鬼への想いから目を逸らしていた矢代。矢代を守りたいと思っていた百目鬼。 ふたりは互いに強く意識しつつも、これまで一線を越えないよう気持ちを堰き止めていた。 けれど、追いつめられた百目鬼が矢代に気持ちを告げたとき、 それまで保っていたバランスが崩れてしまう。 自分に大事なものができてしまう、失ってはいけないものができる── 矢代が選んだ道は……!?
If you have any Drama CD, you want to share, please send me the download link ( ドラマCDをお持ちの場合は、共有してください。) : HERE
Listen to Audio BL Drama CD Saezuru Tori wa Habatakanai Vol5 囀る鳥は羽ばたかない 5 mp3 online: