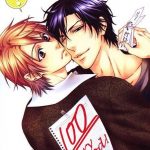 February 24, 2012

Home Tutor!
Synopsis
Rintarou is bothered by the throbbing of his heart caused by his tutor, Kaede for unknown reasons. One day, Rintarou finds out that he's actually in love with Kaede when he was receiving H punishment! But, without knowing Kaede's feelings, Rintarou became anxious and..?! Little sadistic home tutor x natural high school student's after class love.
Includes the following short stories:
V.1
Chapters 4-5 Complex 17
To everyone Kouki is pure, innocent, good-looking, and well-mannered. But in front of Nao Miharu.?!
Chapters 6-7 Koi no Hajime wa xxx!?
What does Amekawa Chitose have to do to get Nijyou Sensei to believe him.
V.2
Chapters 12-13 Yuuutsu Trickster (Melancholic Trickster)
When host, Hayase, wakes up one morning, he finds himself in his neighbour's Akizawa house and from the moment he ate his cooking, Hayase felt attached to him. Then one day while Akizawa was sleeping, Hayase plays a prank on him and is paid back with a forceful kiss?!
Bangai-hen/Extra
V.3
Chapter 15 The prequel to Koitomo!?
The link below includes: 3 volume Katekyo!
Season List