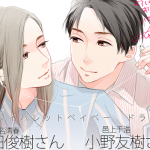 January 1, 2018

ストレイバレットベイベー; 迷途子弹宝贝
Synopsis
Movie advertising agency employee Murakami Chihiro has long carried a torch for fashion magazine editor Motona Kiyoharu, but somehow never found a way to get closer to him.
Though excellent at his job and incredibly attractive, Kiyoharu is a selfish person.
Then one night after a drinking party wherein Chihiro ends up being tasked with seeing the other man home, he reveals an unexpectedly manipulative side and decides to take advantage of the situation…
――世界一綺麗な、俺の憧れの人――。
年下忠犬×ワガママ美人。市川けい先生が初めて描く社会人ボーイズラブ、待望のドラマCD化!
デジタルBL誌「ハニーミルク」から、創刊コミックスとして発売され注目を浴びた「ストレイバレットベイベー」を、
今注目のキャストでドラマCD化。
原作ストーリーに加え、市川先生原案のオリジナルストーリを収録。
さらにメインキャストによるキャストトークも入った豪華な一枚です!
≪ストーリー≫
映画宣伝会社に勤める邑上千浩(CV.小野友樹)には、憧れの人がいる。
取引先のオシャレ雑誌のオシャレ編集者・本名清春(CV.増田俊樹)。
遠くから見ているだけで話したこともなかったが、なりゆきで飲みの席をともにして、
酔いつぶれた本名を家に送り届けることになる。
そこで酔った本名に何故かキスをされ、再び家に来いと脅されて…!?
Listen to BLCD Stray Bullet Baby ストレイバレットベイベー 試聴 online: