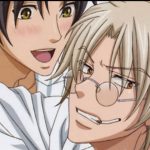 May 22, 2021

The Tyrant Falls In Love
Synopsis
Being in love with your straight senpai isn't easy, but being in love with your straight, homophobic, and tyrannical senpai can be hell! And that's something Tetsuhiro Morinaga can relate to… especially now that he's had a taste of the forbidden fruit!
Features the same homophobic brother from Challengers, but this time as the main character!
Contains an extra story called Bokutachi no Shippai in v.5 featuring Masaki and Morinaga's big brother Kunihiro.
Takanaga Hinako confirmed on her Twitter account that her manga Koisuru Boukun will resume serialization in the February's 2015 issue of Kaiohsha's Gush magazine
This link includes 6 volumes !!!
How to watch Manga Drama CD: LINK
Become my Patreon to watch 100+ series: LINK
Or visit my Buymeacoffee to watch full cd: LINK
Season List