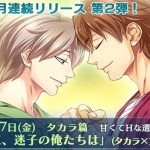 Synopsis
After escaping the island, Azuma, Mitsugi and Mazda have taken Takara hostage and fled abroad.
The strange life of four men has begun.
The famous hostage Takara called Azuma a bride, and the two were treated as half-authorized couples,
The relationship between the two was vague, without going into the feelings of each other.
One day when everyone was busy, and the ingredients and daily necessities were all gone,
Takara proposes to Azuma to purchase a distant large market that he has never visited and to go on an expedition.
Curiosity is high, but there is no doubt that two people will not buy anything.
島を脱出後、
タカラを人質にとって海外へ逃れたアヅマ、ミツギ、マツダ。
男4人の奇妙な生活が始まった。
名ばかりの人質タカラはアヅマを嫁と呼び、2人は半ば公認のカップル扱いだったが、
お互いの気持ちには踏み込まないまま、2人の関係は曖昧だった。
全員多忙が続き、食材も日用品もすっからかんになってしまったある日、
タカラはアヅマに、行ったことのない遠くの大市場(マーケット)まで買い出し遠征に行こうと提案する。
好奇心旺盛だが計画性のない2人の買い出しは案の定……。
Listen to BLCD 今夜、迷子の俺たちは online: