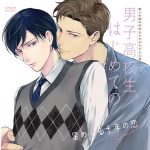 January 1, 2019

Where You Can Only Watch Which Way Their Love Will Go: High School Boy's First Time (Danshi Koukousei, Hajimete no) Vol 10 - Romance of a Decade Roaming the Stars
Synopsis
After school, Iefumi heads up to the school roof to set up for astronomy club. There, he is surprised by his lover Taiga – who looks uncharacteristically sullen about something. "I know you're hiding something," Taiga says, questioning him. Iefumi can't deny it – and Taiga loses his temper. He binds Iefumi's wrists with his necktie. . .
"I've waited forever for you to be honest with me. "
What has Iefumi been hiding from Taiga for the past ten years. . . ?
≪Character ≫
Kousaki Iefumi (Uke) CV: Takuma Terashima
28 years old. Maths teacher at Kinomi Academy. 2nd year home room teacher, and astronomy club adviser. Serious and highly strung, his cool and blunt demeanor doesn't crumble even in front of his lover Taiga. He is popular among his students, who like to admire him from afar, but the truth is he is bad with people and has few friends. His hobby is stargazing.
Tokura Taiga (Seme) CV: Toshiyuki Morikawa
28 years old. A graduate of Kinomi Academy. He has been a popular life of the party, ever since high school. When it comes to romance he is aggressive and a little overly-flirty. But, when he has a partner he is serious about, he is careful and rather possessive. He is currently very busy working as the company president of his own start-up IT company.
放課後、屋上で天文観測会の準備をしている家史。そこへ突然、恋人の大翔がやってきた。
いつもは甘く優しくお姫様のように家史を扱う大翔だが、
「隠しごとをしているだろう」と今までにない不機嫌さで家史を問いただす。
ある理由から、その問いを否定しきれない家史。
そんな態度に業を煮やした大翔は、家史の腕をネクタイで拘束しはじめて……。
「おまえが素直になってくれるのを、俺はずっと待ってた」
恋人としてそばで過ごした、これまでの十年間。家史が大翔に隠していた想いとは ――?
Listen to Audio BLCD Danshi Koukousei Hajimete no vol 10 mp3 online: