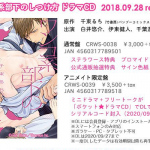 September 28, 2019

Wanko-kei Buka no Shitsukekata, ワンコ系部下のしつけ方
Synopsis
"Please use this fleshlight in front of me."
Sasaki works for an adult toy company. Souta Nakamura, a puppy-like jock (who's also an idiot) gets transferred to his department. Souta's very motivated and begs Sasaki to test his sample product. Sasaki agrees, but he feels awkward using a fleshlight while being watched… But things start to go even further and they eventually…!
An office love story between the "jock puppy" Souta and the socially awkward Sasaki, who himself is in an odd relationship!
アダルトグッズ会社で働く佐々木は、異動してきた新人社員・中村の教育係になる。
初対面から距離感ゼロでグイグイくる中村は、いわゆる典型的な体育会系。
佐々木はペースを乱してくる彼に対して苦手意識を募らせる。
しかし、異動早々張り切る中村は"男性向け商品"の開発にあたり、佐々木にモニタリングを頼み込む。
勢いに押され手伝うことになるも、目の前でジッと見つめられながらオ●ホを使用するのには抵抗が……。
そのうえ、なかなかイかない佐々木に痺れを切らした中村が手を伸ばしてきて―…! ?
恋に臆病な心はワンコ系部下の猛攻で再び熱を帯びるのか…?
Hから始まる大人のオフィス・ラブ。
描き下ろしマンガ8P収録
Listen to Audio BLCD Yasashii Pantsu no Nugasekata 優しいパンツの脱がせ方 mp3 online: