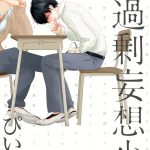 August 4, 2019

Excessively Delusional Boy
Synopsis
Ohno-kun's special skill is "hands-free onani"!
With his own fantasy, he could ejaculate without touching himself. He spent a fulfilling school life like this. Then the popular guy of their class Kureshima, suddenly became close to him~~~?
Getting the girls around them involved in their desire and devices as they go through their youth.
If you have any Drama CD, you want to share, please send me the download link ( ドラマCDをお持ちの場合は、共有してください。) : HERE
Listen to Kajou Mousou Shounen mp3 online: