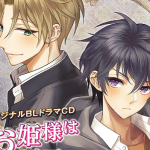 August 10, 2018

A Princess's Princely Aspirations
Synopsis
Shima Yuzuki and Amou Mitsuru have known each other for as long as they could remember. Yuzuki proposed to Mitsuru when they were children but they soon realize that marriage between men would be next to impossible. However, that did not quell the feelings Mitsuru had for Yuzuki and it continued to grow along with his height.
Fast forward to high school when Mitsuru stood a staggering 192 cm with a 20 cm gap with his beloved Yuzuki, things between them had reached a stand still because of Yuzuki's height complex.
But will Yuzuki's stubbornness still persist when his twin brother, Souji lays his hands on Mitsuru?
結月と充は産まれた時からの幼馴染み。
幼い頃、ふたりで交わした結婚の約束。
けれど数年後、男同士では結婚出来ないことを知り、結月は絶望した。
それでもずっと充を想っていた結月だったが、充は見る間に成長し、
身長は192㎝と自分とは20㎝以上差をつけられてしまう。
さらに学校ではいつの間にか、自分は姫として扱われている始末。
一方、充は宗二に結月を抱けとそそのかされて……。
≪トラックリスト≫
トラック1:姫は我慢がならない
トラック2:姫志願の王子様
トラック3:王子様は臆病
トラック4:ベストカップル
Listen to Audio BLCD Ohimesama wa Ouji shigan お姫様は王子志願 mp3 online: