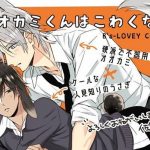 May 29, 2019

Ookami-kun is not scary, オオカミくんはこわくない
Synopsis
"Do people fall in love with someone on their first heat…?"
The world is filled with animals that can evolve into beastmen. And there is a young and earnest wolf who was always mistaken for a showy person because of his flashy looks.
The easily mistaken wolf has fallen for an attractive looking rabbit named Usami, whose skin is tanned. Even though Usami is very cautious of the carnivors, he will put his guard down only when he was with the easily mistaken wolf, who was a pervert that changed into a life saver for Usami.
But what will happen to Usami on his first heat-!?
動物から独自の進化を遂げた獣人が暮らす世界。
オオカミの志狼は派手な見た目のせいで誤解されやすいが、硬派で一途。
そんな志狼は褐色肌が目を引くウサギの宇佐美に恋している。
Listen to Audio BLCD Drama CD MP3 online: