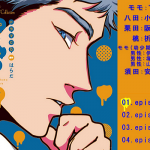 Synopsis
Good-for-nothing Momo lacks the ability to look after himself, and is the ultimate slut.
Yata is the mothering type, a reliable but simple guy. The two get off to the worst possible start when Yata comes across Momo during a post-sex clean-up in a public restroom. Taking advantage of Yata's kindness, Momo ends up staying at his apartment. As he spends more with Yata, the once-slovenly Momo starts to change… But in the midst of this, Momo's previous "owner" shows up.
An erotic comedy with a sad twist that'll pull at your heartstrings.
生活能力ゼロ、究極ビッチでクズでろくでなしモモ。オカン系男子で面倒見のいい純朴青年、八田ちゃん。
公衆トイレでの"事後処理"中という最低最悪の出会いから、八田ちゃんの人の良さにつけこんで、家に転がり込むことになったモモ。
彼と過ごすうちに、ろくでなしなモモに少しずつ変化が…。そんな矢先、モモの過去のパトロンが表れて——。
Listen to Audio Yatamomo Vol 2 やたもも 2 mp3 online: