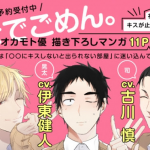 March 14, 2020

I Love You. I'm Sorry.
Synopsis
For 6 years, Kouta has been harboring a secret crush on his childhood best friend and well-known playboy Haruto.
All this time, he's accepted that his crush will stay just that, unrequited.
However, one day, it seems like Haruto has noticed…? Little by little, their relationship is changing!
好きな子はいじめたい系×ネガティブ健気の切なキュンBLv
平凡男子・晃太は、校内一の超モテ男・陽翔に片思いし続けている。
どうせ叶わないと気持ちを隠し続けるが、
些細なきっかけで2人の関係は少しずつ変わっていき…。
Listen to Audio BLCD Suki de Gomen 好きでごめん。mp3 online:
*This CD is shared by Nagamager, if you have any CD you want to share, please visit HERE