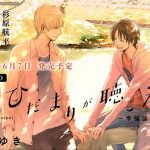 July 6, 2017

I Hear the Sunspot, ひだまりが聴こえる 幸福論
Synopsis
College student, Kouhei is hard of hearing and so he distances himself from those around him.
He then meets Taiichi, a classmate who's got a bright personality and speaks his mind. "It's not your fault that you can't hear." When Taiichi speaks these words, Kouhei is suddenly saved by those words…
More than friends. Less than lovers. His meeting with Taiichi will change him.
デビュー作で大反響となった『ひだまりが聴こえる』が
続編『ひだまりが聴こえる-幸福論-』となっていよいよ登場!
前作では"友達以上恋人未満"だった二人に進展が……!?
―――あいつ、耳聴こえねーの?
難聴のせいで孤立気味な航平と、
バカみたいに明るい性格の太一は大学の同級生。
最初は心を閉ざしていた航平だったが、
太一との出会いにより少しずつ変わってゆき……。
CAST
杉原航平:古川慎
佐川太一:榎木淳弥
(店舗別特典)
中央書店コミコミスタジオ
文乃ゆき先生描き下ろし小冊子
ホーリンラブブックス
文乃ゆき先生描き下ろしペーパー&口絵ブロマイド
とらのあな
コミックス未収録番外編小冊子
アニメガ
ジャケットイラスト使用缶バッジ
Listen to Audio BL Drama CD Hidamari ga Kikoeru KOUFUKU RON ひだまりが聴こえる 幸福論 mp3 online: