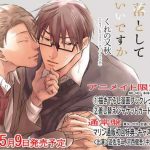 January 1, 2018

Can I have you fall into my grasp? May I Make You Mine (Lezhin title) 手中に落としていいですか
Synopsis
A real go-getter scout for gay porn videos, Mikajima, sets his eyes on Nitta, who has a wiry physique and hides his youthful face with glasses.
He casually started talking to him downtown, and successfully lures Nitta using their common interest- books. Afterwards, in order to bring out Nitta's talent as a porn actor, Mikajima molests Nitta.
With this obscene development, will Nitta fall into the hands of Mikajima?
やり手のゲイAV男優スカウトマンである巳鹿島が狙いを定めたのは、街で見かけた素人男子の新田だった。共通の趣味を餌に近づいた巳鹿島は、新田の素質を引き出すため、酒に酔わせ、彼の体に淫らなイタズラを仕掛けていく。
童顔な見た目に反して鍛えられた体を弄り…イカせ…独占欲を滲ませ、獲物を追い詰めるスカウトマンに、エロさを秘めた純朴青年が陥落寸前まで追い詰められる!?
If you have any Drama CD, you want to share, please send me the download link ( ドラマCDをお持ちの場合は、共有してください。) : HERE
Listen to BLCD Shuchuu ni Otoshite Ii desu ka 手中に落としていいですか mp3 online: