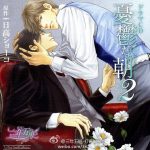 January 1, 2010

Blue Morning, Ein melancholischer Morgen, Gorzki poranek,Melancholic Morning,憂鬱な朝
Synopsis
I will serve you my entire life. In exchange, you bring the Kuze family the rank of count or higher."
The young viscount Akihito agrees to this condition laid out by his butler Katsuragi, who is thus forced into his arms. But no matter how deep their affair goes, Katsuragi's attitude towards him remains cold. Akihito is plunged into a turmoil of fierce emotions, as frustrated by this unyielding distance as he is driven to violent passion by his butler's cleverness and beauty.
The situation reaches a breaking point when master and servant are invited to a party at the Marquise Moriyama's
「生涯仕えると誓う代わりに、伯爵以上の陞爵(しょうしゃく)を」-桂木からの条件に同意し、強引に抱いてしまった暁人。けれど、どんなに情事に溺れても、桂木の態度は冷たいまま。怜悧な美貌を崩さない家令に、若き子爵は激情と苛立ちを募らせる。そんな緊張感を孕む主従は、ある晩、森山侯爵家の夜会に招待されて…! ?